JOMSALVA in Facebook:
Follow us on Facebook and stay up to date with all the news of the world of rubber and our company's activities.
Quality and Standards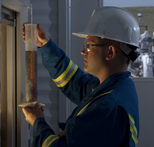 In Jomsalva, our clients come first. The high quality of our products, together with our excellent service for our delivery commitments, defines our quality policy.
The Laboratory is a fundamental piece in our work plan.
It controls the product since step one. It selects and approves the best suppliers and products. 
It conducts extensive tracking of our deliveries and its processes are monitored via computerization.
It checks 100% of the produced compounds in every production stage with the most advanced technologies.
Certifications
The proper development of our products and processes ensure our production quality. This is the reason Jomsalva has received the ISO 9001 2008 certification.
Jomsalva works continuously to improve its facilities, reducing and recycling wastes and optimizing its systems.
Every member of our company is committed to ensure the best quality, being completely involved in our process of continuous improvement.
In 2003, Jomsalva was distinguished by the Buenos Aires Government with the "Sello Baires de reconocimiento a la calidad" ("The Baires seal of quality").

See JOMSALVA's certifications »