Our Products
Jomsalva's advanced technology enables it to fully satisfy its clients' needs.
An ever improving high-quality level, coupled with a skilled team of employees and strict regulations throughout the entire production process, allows us to offer high-quality products and the best service possible.
PROTECTORS

Protectors manufacture
Jomsalva's protectors are specially designed according to every required application and they are compatible with both conventional and radial tires.
Technical characteristics:
Low thickness on the edges to prevent tube deterioration.
Valve area reinforced with high-performance compound.
Tire dimensions fitting for every use.
Compatibility with conventional and radial tires.
High-performance. Our protectors are made with compounds designed to allow the best performance.
16-inch Rim. Central or side perforation optional.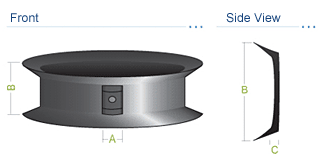 RIM
DIMENSIONS
WEIGHT
A
(Reinforcement)
B
(Width)
C
(Thickness)
16
6.00/6.50/7.00/7.50
1.450
52
170
5.6
16 ATR
20
7.50/8.25/9.00/10.00
1.950
90
190
7.4
20 ATR
20
10.00/11.00/12.00
2.350
60.3
235
6.0
20 ATR
22
11.00/12.00
3.630
78
205
7.0
22 ATR
24
13.00/14.00
3.000
74
225
5.0
sdsad