Our Products
Jomsalva's advanced technology enables it to fully satisfy its clients' needs.
An ever improving high-quality level, coupled with a skilled team of employees and strict regulations throughout the entire production process, allows us to offer high-quality products and the best service possible.
HIGH-TEMPERATURE PROTECTORS

Fabricación de protectores
Jomsalva's protectors are specially designed for all type of autoclave for tire retreading.
Technical characteristics:
Resistant to high-temperature retreading in autoclave.
Greater resistance to reuse.
Designed for all truck and van sizes.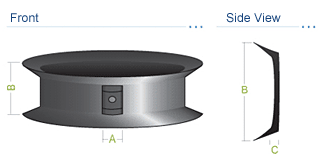 RIM
DIMENSIONS
WEIGHT
A
(Reinforcement)
B
(Width)
C
(Thickness)
16
6.00/6.50/7.00/7.50
1.450
52
170
5.6
16 ATR
20
7.50/8.25/9.00/10.00
1.950
90
190
7.4
20 ATR
20
10.00/11.00/12.00
2.350
60.3
235
6.0
20 ATR
22
11.00/12.00
3.630
78
205
7.0
22 ATR
24
13.00/14.00
3.000
74
225
5.0